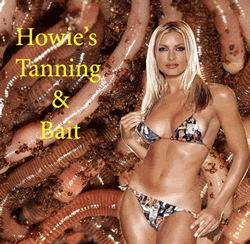 The dream of every entertainer is to someday attract the attention of corporate sponsors so that they can earn some additional income and enjoy the swag from their benefactor. I'm pleased to announce that
srs_bidness is now sponsored by Howie's Tanning Salon and Bait Shop. I am paid handsomely each round for the poignant essays and concise social commentary you've come to expect from this journal. Additionally, I am bronze, sexy, and have all the nightcrawlers a guy could want. Yes, my date calendar is quite full, ladies.

Last week, I spent a couple of days at the corporate offices of my new sponsor getting to know them, and them me. After being treated to world class travel arrangements, I was met by the Chief Executive Officer himself at the Greyhound stop. "Welcome to Big Tuna, Texas," Howie said and patted me on the back. He directed me across the dusty parking lot of the Catfish Cafe to his car.

"Big Tuna isn't exactly Emerald City," I said collapsing into the pleather seat covers of his '78 Camaro. Howie executed a donut in the parking lot.... really, the donut had it coming. He turned onto the highway and headed for his shop. "How far away is the..."

"We're here," Howie said, whipping the Camaro into a parking lot across the street. He showed me inside and into his office. He motioned to the computer on his desk, "If ya need to check your email, we've got the AOL. You're still in the contest, I just checked this morning. I've been reading some of the other entries in that competition of yours. There sure are a lot of girls that've been raped on there. I bet they're hot. You bang any of 'em?" Howie spit some tobacco juice into a spent Pabst Blue Ribbon can and looked at me intently without a hint of insincerity. Before I could answer, he said, "Oh, check this shit out!"

He opened a door that revealed a video camera on a tripod. On the other side of the camera was a two-way mirror looking into one of the tanning booths. A shirtless, highschool-aged girl was kicking off her cowboy boots and beginning to unzip her blue jeans. Howie looked longingly through the glass and continued, "I make a good living on the the bait and tanning but the real money is in these movies. I sell 'em to drifters and the fellas at the bar. This one boy, Bobby Peru down at the motel, buys 4 or 5 of them a week from me." He closed the door and sat on the edge of the desk.

"I wanted to talk to you about your writing. Most of it's purty good. That shit about bitch slapping your mom and your Grandpa picking up old chicks is funny stuff, but I'm a little worried about all the masturbation in your entries. I'm not sure that's an image I want associated with my good name and reputation if I'm going to sponsor you."

"Well, they teach you to write what you know and..."

"Hell, son. Every man punches the bishop and makes him cry, but they don't go tellin' the whole world about it." Howie opened a ledger on the desk, pulled a check from it and handed it to me. "I can trust we won't see any references to monkey spanking in Round 6, right?"

"Absolutely not," I said, snatching the check from his hand.